"Nine is Mine" – Indian Children Cycle to Ask for Education Promise to be Honoured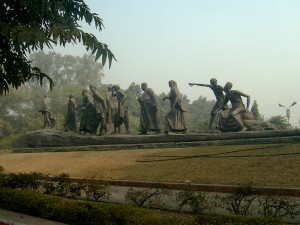 Statue in New Delhi commemorating the 'Salt March' led by Gandhi as part of the struggle for Indian independence
As part of the campaign to urge governments to honour their commitments to the Millennium Development Goals students from St Johns Christian Brothers College in Chandigarh (themselves from marginalised and vulnerable families) will be joining with children from similar backgrounds to cycle 300km to New Delhi to ask the Indian government to fulfill its promise to allocate 9% of its GDP to education and health.
At each overnight stop along the journey the group will be meeting with groups of vulnerable children and making a presentation about the "Nine is Mine" campaign as it is called and meetings will also be sought with local parliamentarians and village leaders.
The exercise will conclude in New Delhi with a visit to the national parliament and a rally at which children will tell their stories and well-known singers will perform.
Br Steve is hoping that young people in our schools around the world might send expressions of support and encouragement to the children who are about to embark on this journey.
See photos and follow progress of the cycle rally at http://www.nineismine.in/CycleRally